Trevor Milton Net Worth: How Rich is Former Nikola's CEO?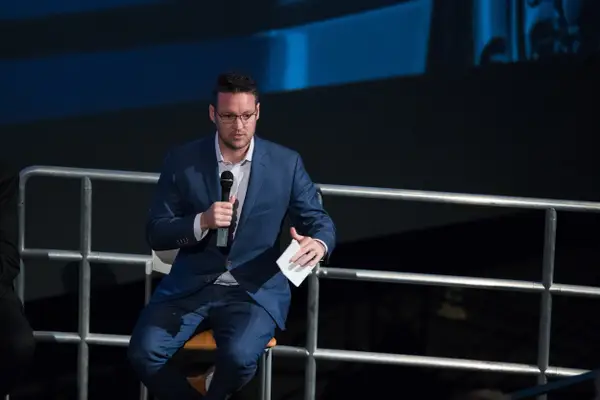 Trevor Milton is an American former businessman who previously served as the CEO of Nikola Corporation. He resigned as chairman in September 2020 following an investigation claim that he and Nikola committed securities fraud. The federal prosecutors indicted Milton on 3 counts of securities fraud and wire fraud in July 2021. Milton was found guilty on 3 of the 4 counts in October 2022. As of 2022, Trevor Milton net worth is roughly around $3.1 billion.
| | |
| --- | --- |
| Full Name | Trevor Robert Milton |
| Date of Birth | April 6, 1982 |
| Birthplace | Layton, Utah |
| Profession | Former businessman |
| Wife | Chelsey Bergmann |
| Net Worth | $3.1 billion |
Early Life
Trevor Milton was born on April 6, 1982, in Layton, Utah. He was born to Bill Milton and Sally Milton. His father, Bill was a Union Pacific Rail manager, and his mom, Sally was a realtor. Milton grew up with a brother and 3 sisters. His family shifted to Las Vegas when he was still a toddler. However, he returned to Utah after he reached 8. He was 15 when he lost his mother due to cancer.
Milton went on an eighteen-month church mission in brazil after he finished high school. Even though he had joined Utah Valley University, he left the University after one semester. In fact, Milton wanted to make a career in sales and marketing.
Trevor Milton Net Worth & Career
Meanwhile, while pursuing his career in sales, he went on to start an alarm sales company, St. George Security and Alarm. Though, he exited the business for around $300 thousand. Then, he launched an online classified ads website, through which, he used to sell cars. Nevertheless, the website didn't work out well for him. After a while, he founded an alternative energy vehicle company, dHybrid, Inc. The company retrofitted commercial trucks with engines.
Milton eventually closed the company after he claimed that the investor was taking intellectual property. That resulted in the company suing the investor. Then, he started a similar company named dHybrid Systems. The only difference in his second company was that the company focused greatly on building natural gas and hydron storage systems. Eventually, the company was later purchased by Worthington Industries. Milton then founded another company, Nikola Motor Company with an early investment of $2 million from Worthington. In his early years, he served as a CEO.
Later, he became the executive chairman of the board and left the CEO role to President, Mark Russell. Milton was accused of making false statements over the course of many years by the short seller, Hindenburg Research in September 2020. He was also accused of characterizing Nikola Motor Company as an intricate fraud. Due to that, the company's stock fell by 8% that day, and the following day, the stock fell by additional 15%
However, Milton completely denied the allegations of fraud and claimed that the report contained misleading information. Later in September 2020, the Nikola company was sued by at least a law firm that represented shareholders for possible fraud. In September 2020, further investigation was carried out by the Department of Justice and the Securities and Exchange Commission for the potential security fraud committed by Nikola and Milton.
Subsequently, after that, Milton resigned as an Executive Chairman on September 2020 However, he remained as an unpaid consultant to Nikola until December 2020. On September 20, a Twitter satire account claimed that Milton was arrested by the Federal Bureau of Investigation. However, a few hours later, the tweet was revealed as a hoax. Since Milton was brought to the public attention, he deactivated his Instagram and Twitter accounts.
Milton was indicted on three counts of wire and securities fraud by the US federal grand jury in July 2021. In addition to that, he faced civil securities fraud charges from the Security and Exchange commission. However, he pled not guilty and was freed on $100 million bail. Milton was found guilty of two counts of wire fraud and one count of securities fraud in October 2022.
Personal Life
Trevor Milton has been married to Chelsey Bergmann since 2017. He was accused by his cousin, Aubrey Ferrin Smith in September 2020 of sexually assaulting her at their grandfather's funeral in 1999. During the time, he was 18 and his cousin was 15. His cousin, Smith later confirmed on filing a formal complaint with the local police in Holladay. She also published an account of the assault on Facebook without revealing Milton's name.
Milton was further accused by another anonymous woman of assaulting her in September 2020. According to the victim, the incident occurred in 2004 when she was 15 and he was 22. Trevor reportedly bragged to a friend and said that he was taking her virginity in the theater room. Milton further told that he like young girls and like virgins because they are naive. In October 2020, he sued Utah businessman, David Bateman for defamation that included him in sex trafficking and assaulting numerous unidentified women.
Trevor Milton Net Worth
Trevor Milton's personal wealth is estimated to be around $3.1 billion as of 2022. In November 2019, Milton purchased a 2,000-acre ranch in Utah including a 16,800-square-foot riverside mansion worth $32.5 million. Milton's net worth was reported to be at least $3.1 billion by Forbes in September 2020. During the time, he owned around 25% of Nikola which was reportedly valued at around $12.4 billion.