Peso Peso Net Worth: How Rich is the Rapper Actually in 2022?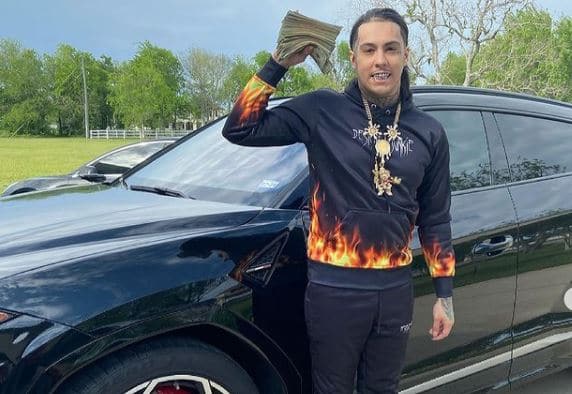 Mario Herrera Jr., popular as Peso Peso is a 26 years old rapper from Texas. He is best recognized for his hit singles "Fasho", "Uber" and "Gummo Freestyle". He is also known for his 2019 released album "Hardest Ese Eva". As of 2022, Peso Peso net worth is estimated to be around $1 million.
| | |
| --- | --- |
| Full Name | Mario Herrera Jr. |
| Birth Date | June 28, 1995 |
| Birth Place | Texas, United States |
| Profession | Rapper |
| Relationship Status | Single |
| Net Worth | $1 million |
Early life
Peso Peso was born Mario Herrera Jr. on 28th June 1995 in Texas, United States. He was raised by his grandparents after his parents separated. Peso's father Mario Herrera Sr. had not played any major role in upbringing his son.
He has 2 brothers and a young sister. Peso was brought up in the violent and tumultuous surrounding of Texas City. Though he joined the high school, he dropped it when he was in 9th grade.
After dropping out of high school, he indulges himself in hustling and selling drugs. At the same time, he was also making music. In fact, he was known as a Star Baby, who was also signed with Dope House Records.
Peso Peso Net Worth & Carrer
View this post on Instagram
Peso has been making songs since 2014. His first single, Gotta Have It was uploaded on YouTube on 26th February 2014. At that time, he was known as King Pe$o. After that, he uploaded another song, Except For That on September 18, 2015. Although he was not getting popular, he kept up his positive attitude and made other songs.
Under the stage name, King Pe$o, he has sung many songs like "Dirty", "Trap House", "Fasho", "Trap Turnt", "What U Mean", "Yeah", "Do It", "Trap Like Me" and "Foon On They Neck". He started uploading the songs, using the new name, Pe$o Pe$o on July 10, 2017. He released a Hip-Hop album "Hardest Ese Eva' on July 12, 2019, under the record label TSF.
Peso started uploading his songs on his new YouTube channel, Peso Peso-Hardest Ese Eva on November 25, 2019. His most viewed song to date includes "All In", "Touchdown", "Mi Vida Loka", and "EBT". His most recent song "Andale" was uploaded on May 5, 2021.
Peso Peso Personal Life
Peso has not shared any information regarding his love affairs. Though, we got to know that he has a son, Zae who was born on December 1, 2015. However, we are still unaware of the baby's mother. Peso is often seen sharing his son's picture on Instagram. His son even has his own Instagram account, @baby_zae409.
Peso Peso Net Worth
Peso, through his struggling childhood to an awesome music career, has gathered an approximate fortune of $1 million. He is still growing big with his amazing foot-tapping numbers. His net worth value would be huge in the next few years if he keeps on delivering hit numbers.
Peso Peso News
Texas rappers to watch: Peso Peso  FOX 26 Houston

Flex Kartel Links With Sauce Walka and Peso Peso on "Forbes"  The Hype Magazine