Onision Net Worth: How Rich is the YouTuber Actually in 2022?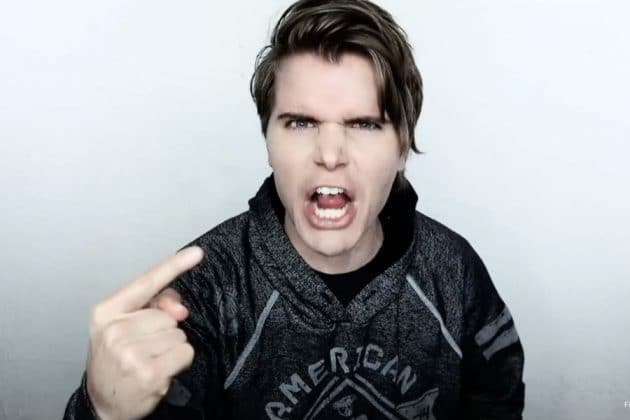 James Gregory Jackson, better known as Onision is an American YouTuber. He is best known for his YouTube channel "Onission", where he posts sketches, and satirical videos. James has been in controversies most of the time for his online content. As of 2022, Onision net worth is estimated to be around $5 million.
Onision was suspended from the YouTube Partner Program in January 2021, due to which, his three channels are demonetized.
| | |
| --- | --- |
| Full Name | James Gregory Jackson |
| Birth Date | November 11, 1985 |
| Birth Place | Auburn, Washington, U. S. |
| Profession | YouTuber |
| Wife | Kai Avaroe |
| Net Worth | $5 million |
Early life
Onision was born Gregory James Daniel on the 11th of November, 1985 in Ausburn, Washington, United States. He was raised by his mother along with his older sisters. Onision has mentioned his father to be a child predator in his self-published video "Facts About Onision (Story Time)" in 2014.
Onision Net Worth & Career
He spent his early teenage days composing music and working on the web. He was also more often interested in graphic designing. In 2006, he opened his YouTube channel. Though, he didn't make any of the videos until October 2007. He made his early videos featuring a character named Chibi, which was interpreted as a part of the central character of Lucas Cruikshank's internet video series "Fred Figglehorn".
Onision uploaded a song titled "Banana Song (I'm a Banana" in 2009. The song went viral in a very short time. In the video, he is seen jumping around screaming in a banana suit. The video also featured his first wife, Skye Tantaga. The video was named as the Viewer Video of the Week on Comedy Central Series, Tosh.0 in 2010. Later on, he started making videos along with his then-girlfriend Shiloh Hoganson, who was seen experiencing transient amnesia in some of his videos.
Onision has faced a lot of criticism for his on-camera and off-camera activity. He was named as YouTube's most troubled star by James Cook in 2013. Likewise, he was included in the list of six YouTubes "worse" than Logan Paul by Daily Dot in 2018. He has also been criticized by some of his fellow YouTubers like Daniel Sulzbach, Blaire White, and Strange Eons.
Onision was banned from VidCon 2012 after he made a video on his ex-girlfriend Jourgensen, whom he called a slut for sleeping with over 20 people before she dated him. Likewise, Patreon banned him in November 2019 after he posted the phone number of fellow YouTuber Billie Dawn Webb. He often claimed that she had manipulated into a sexual relationship with him.
On January 3, 2021, the documentary series based on Onision's controversies and sexual encounters was premiered on the new Discover+ program. Shortly after the premiere of the documentary series, Onision revealed that his YouTube channels were suspended from the YouTube Partner Program. He also confirmed the demonetization news through a video titled Farewell.
Onision Personal Life
Onision has been married twice. First, he tied the knot with Skye Tantaga in 2005. His first marriage lasts for five years until the pair separated with divorce in 2010. In 2012, he shared the wedding vows with Kai Avaroe.
He has a daughter, who reportedly fell from his second-story window on the concrete driveway in September 2019. A police report was also filed in early 2020, however, the incident was believed to be accidental and was proved insufficient for the involvement of Child Protective Services.
Along with his wife, Kai Avaroe, Onision was reportedly involved in sexually assaulting six women in 2019. According to six women, the couple has pressurized them to get into either online or physical sexual encounters.
Onision Net Worth
As of 2022, Onision's net worth is estimated to be around $5 million. Before his YouTube channel was suspended in January 2021, he was earning an estimated annual revenue of $36,000. Onision was fined $90,000 in 2019 for disturbing a wetland area by the Planning & Public Works Department of Pierce County, for which he claimed that he had paid the fee.
Onision News
YouTube Hit With Sex Trafficking Suit Claiming Content Creators Onision, Laineybot Groomed a Minor | The Recorder  Law.com

'Nothing was done': YouTube star at center of first-of-its-kind lawsuit speaks out  WFTV Orlando

Controversial Former YouTube Star Onision Sued For Alleged 'Grooming'  Rolling Stone