MyKayla Skinner Net Worth: How Rich is the Gymnast Actually?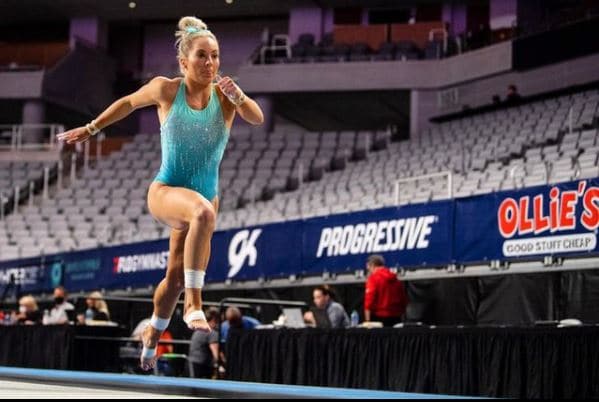 MyKayla Brooke Skinner Harmer is an American artistic gymnast. She is a 2-time NCAA champion and has won a total of 11 medals in the USA National Championships in her career so far. As of 2022, MyKayla Skinner net worth is estimated to be in the range of $700,000 to $1.2 million.
| | |
| --- | --- |
| Full Name | Mykayla Brooke Skinner Harmer |
| Birth Date | December 9, 1996 |
| Birth Place | Gilbert, Arizona |
| Profession | Artistic Gymnast |
| Relationship Status | Married |
| Net Worth | $700,000 to $1.2 million |
Early Life
MyKayla Skinner was born on December 9, 1996, in Gilbert Arizona. Growing up, Skinner looked up to Olympic gold medalist Shawn Johnson. She then started her training at the Desert Lights Gymnastics in her hometown of Arizona. Skinner studied at Higley High School but would be homeschooled since 2012. In 2014, she would commit to joining the University of Utah as a collegiate gymnast.
MyKayla Skinner Net Worth and Career
View this post on Instagram
Among her earliest wins came during the 2011 American Classic where she was declared the champion. This would lead to her selection in the junior US national team that same year. In 2012, she became part of the senior team as well and was instrumental in helping the U.S. team to win the City of Jesolo Trophy. She would repeat the same result in the same event two years later in 2014 as well.
That same year Skinner also competed in the 2014 World Championships in China where would again win gold. Another major tournament Skinner competed in was the 2016 U.S. National Championships where she won a silver medal on vault. So far in her career, she has already been able to win 11 medals in the U.S. National Championships.
However, in 2016, she expressed disappointment on not being selected for the 2016 Olympics even after finishing fourth in the U.S. Olympic Trials. Yet Skinner continued to improve upon her performances and skills. During the NCAA championships, she would finish seventh.
In 2019, Skinner would again start her campaign on making it to the 2020 Olympics. She had great momentum on her side with her performance in the 2019 U.S. Classic leading to the second-highest single vault score recorded.
In the National Championships that same year, Skinner did have some fallbacks as she would end in ninth place on the first day because of a fall. Yet, overall she was able to finish strong and this led to her qualification in the Olympic Trials where she managed to finish in the 5th position. This has helped her earn a spot in the upcoming Tokyo Olympics.
Personal Life
Mykayla Skinner is married to Jonas Harmer. The two have been a longtime couple. Skinner also has three siblings named Chelsea, Katie, and Jeremy with two of them even being former gymnasts. Skinner is a Christian and is also a member of the Church of Jesus Christ of Latter-day Saints.
MyKayla Skinner Net Worth
As of 2022, MyKayla Skinner's net worth falls in the range of $700,000 to $1.2 million. The brand endorsement deals she gets are a big part of her net worth. With her now being selected for the Olympics, it is in such competitions that brands are most interested in athletes such as Skinner which could significantly help her to boost her current net worth.
MyKayla Skinner News
Pregnant Olympic Gymnast MyKayla Skinner Poses for Maternity Photos: 'Can't Wait' (Exclusive)  PEOPLE