Greg Abel Net Worth: How Rich is the CEO of Berkshire Hathaway?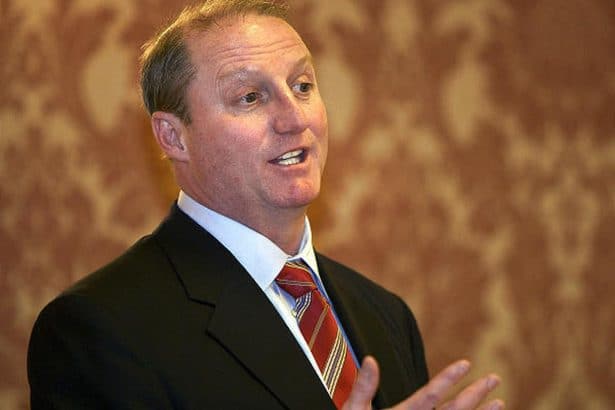 Greg Abel is a Canadian businessman, who serves as the CEO of Berkshire Hathaway Energy. He is also vice-chairman of Berkshire Hathaway's non-insurance operations. Recently Warren Buffet announced Greg Abel as a successor of Berkshire Hathaway, who will take over as CEO if anything happens to Buffet. As of 2022, Greg Abel net worth is estimated to be around $500 million.
| | |
| --- | --- |
| Full Name | Gregory Edward Abel |
| Birth Date | June 1, 1962 |
| Birth Place | Edmonton, Alberta, Canada |
| Profession | Businessman, CEO |
| Relationship Status | Married |
| Net Worth | $500 million |
Early life
Greg Abel was born on the 1st of June, 1962 in Edmonton, Alberta, Canada. His father used to work in an environment and fire solutions company, Levitt Safety, and his mother used to look after the house. He has a younger sister named, Heather MacBeath. Greg has studied at Bonnie Doon Composite High School. He was not much into extracurricular activities in high school. However, he used to actively participate in football.
While studying at high school, he worked in a series of odd jobs. He also worked at Levitt Safety, where he filled fire extinguishers. Greg later earned a small scholarship from the fire solution, Levitt Safety, and joined the University of Alberta. He eventually graduated from the University in 1984, majoring in commerce degree.
Greg Abel Net Worth & Career
Abel's early work experience came as an accountant for the Edmonton-based multinational firm, PricewaterhouseCoopers. While working in the company, he was approached to join the internal accounting team of the geothermal company, CalEnergy Co. Greg's dedication and hard-working nature impressed the CEO, David Sokol. He gave Abel an opportunity to expand his operation skill by working as a controller at one of his company's power plants.
Greg was transferred to the United Kingdom in 1996 after David Sokol purchased a utility company in U, K. In 1999, he was shifted to the United States, after CalEnergy purchased an Iowa-based utility. He served as the company's president. In 2008, he was appointed as CEO of MidAmerican, which was renamed Berkshire Hathaway Energy in 2014.
Greg was named as vice chairman of Berkshire Hathaway in January 2018 for its non-insurance operations. Most recently in May 2021, during the annual meeting of Berkshire Hathaway, the board of directors of Berkshire has named Greg as a successor of current CEO, Warren Buffet. Warren also confirmed the news while speaking to CNBC on May 3, 2021.
Greg Abel Personal Life
Greg Abel has been married twice. He has 3 grown children from his first wife. His three kids were under 7 years of age when he was transferred to U. K. in 1996. Sources revealed that he is married again, and raising a son with his second spouse.
Greg Abel Net Worth
As of 2022, Greg Abel's personal wealth is estimated to be around $500 million. He is getting a hefty annual salary amount equals to $19 million from Berkshire Hathaway. In addition to that, he owns 5 Berkshire Hathaway Class A shares in the trust, which worth over $400,000 per share, and 2363 class B shares, which worth $280 per share. The total stake worth around $2.8 million.
Greg Abel News
After Munger's death, Berkshire succession comes into focus  ReutersCharlie Munger talks investing, becoming a billionaire, the Fed, tech, crypto, and more  Yahoo FinanceWhy It's So Hard to Copy Charlie Munger's Secret Sauce  The […]

Meet Greg Abel, Warren Buffett's successor and heir apparent to Berkshire Hathaway  Yahoo Eurosport UK

Analysis-After Munger's death, Berkshire succession comes into focus  StreetInsider.com