Dodi Al Fayed Net Worth: How Rich was Mohamed Al Fayed's Son?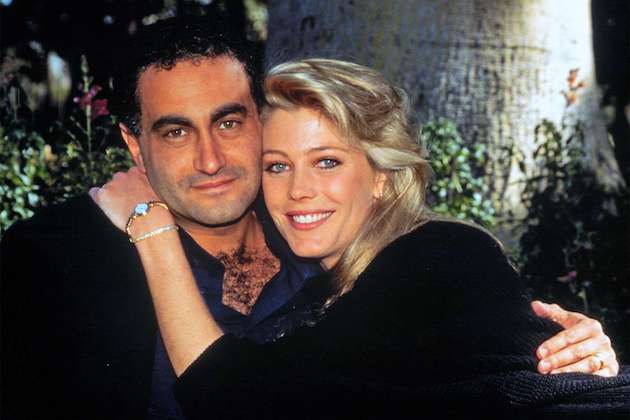 Dodi Al Fayed was an Egyptian movie producer. He was the son of billionaire Egyptian businessman, Mohamed Al Fayed. Fayed was best known as the romantic partner of Princess of Wales, Diana. The late princess and Fayed, both died in a car crash in Paris in August 1997. Dodi Al Fayed net worth at the time of his death is estimated to be around $2 billion.
| | |
| --- | --- |
| Full Name | Emad El-Din Mohamed Abdel Mena'em Fayed |
| Birthday | April 17, 1955 |
| Birthplace | Alexandria, Egypt |
| Profession | Film producer |
| Girlfriend (rumored) | Diana, Princes of Wales |
| Net Worth | $2 billion |
Early Life
Dodi Al Fayed was born on April 17, 1955, in Alexandria, Egypt. He was born to Egyptian billionaire, Mohamed Al Fayed. Dodi's father was the former owner of Harrods department store, the Hotel Ritz Paris, and Fulham Football Club. His mom, Samira Khashoggi was a Saudi Arabia author.
Fayed initially studied at College Siant Marc and later joined the Institut Le Rosey in Switzerland. He has also briefly studied at Sandhurst Military Academy. Following his education, he began working as an attache at the UAE Embassy in London.
Dodi Al Fayed Net Worth & Career
Dodi was working in his family's production company named Allied Stars. Through the production company, he has worked as an executive producer of the movies, Chariots of Fire, F/X, F/X2, Breaking Glass, The Scarlet Letter, and Hook. In addition to that, he also worked as the executive creative consultant in the movie, F/X: The Series. Besides that, he also helped his dad with Harrods' marketing.
Fayed came into the limelight after Netflix premiered the fifth season of The Crown on November 9, 2022. The Netflix series explored every event and aspect of life in the British royal family. Along with that, the series also focuses on the dissolution of Princess Diana and Prince Charles' tumultuous marriage. In the series, a man named Mohamed Al Fayed was introduced to audiences. Mohamed was a wealthy businessman who owns lots of fancy properties around London and Paris. Later, it was revealed that Mohamed Al Fayed is the father of Dodi Al Fayed who became Princess Diana's boyfriend right before her death.
Personal Life
Dodi Al Fayed was married to model, Suzanne Gregard for only eight months. He tied the knot with Gregard in 1986 and divorced just eight months later. Then, he became engaged to a model, Kelly Fisher. Later, the pair purchased a house in Malibu, California putting in a certain portion of the amount each. However, their relationship didn't last long after Dodi became romantically involved with Princess Diana in July 1997.
Dodi's former fiance, Kelly Fisher also filed a breach of contract suit against him. Fisher claimed that he abandoned her and threw her love away leading her emotionally all the way up to the altar. Fayed reportedly met Diana for the first time at a polo match in 1986. Then, they reconnected again while vacationing at his father Mohamed's house in St. Topez with Prince Harry and Prince William.
Fayed and Princess Diana were killed in a car crash on August 31, 1997. Their car crashed in the Pont de l'Alma underpass in Paris. Both had spent 9 days together on holiday aboard his family's yacht, the Jonikal. Dodi and Princess Diana were not wearing seat belts when their car crashed.
Their bodyguard, Trevor Rees-Jones was the only person who survived the car crash. After the investigations by British and French Police, it was concluded that the car crashed due to their chauffeur, Henri Paul who was driving under the influence of alcohol and drugs. Following his death, Dodi's dad, Mohamed claimed the pair were executive by MI6 agents.
Fayed and Diana were also reported to have gotten engaged according to Dodi's spokesperson, Michael Cole. After his death, he was originally interred in Brookwood Cemetery. However, he was later disinterred and re-interred on Fayed estate's grounds in Oxted, Surrey in October 1997.
Dodi's father, Mohamed erected two memorials in remembrance of his son and Princess Diana at Harrods. The first memorial includes photos of Fayed and Diana behind a pyramid-shaped display, which was unveiled on April 12, 1998. The second memorial includes a copper statue of Fayed and Diana, which was titled Innocent Victims and was unveiled in 2005.
Dodi Al Fayed Net Worth
Dodi Al Fayed's net worth is estimated to be around $2 billion before he died on August 31, 1997. He had most probably inherited the giant net worth from his billionaire father, Mohamed Al Sayad. Dodi's father, Mohamed is still alive at 93 years old. Mohamed Al sold the Harrods department store for $2.4 billion to Qatar in 2010. Mohammed stepped out of the public after being accused of several sexual harassment and assaults over the years.