Coy Gibbs Net Worth: How Rich was the NASCAR Driver?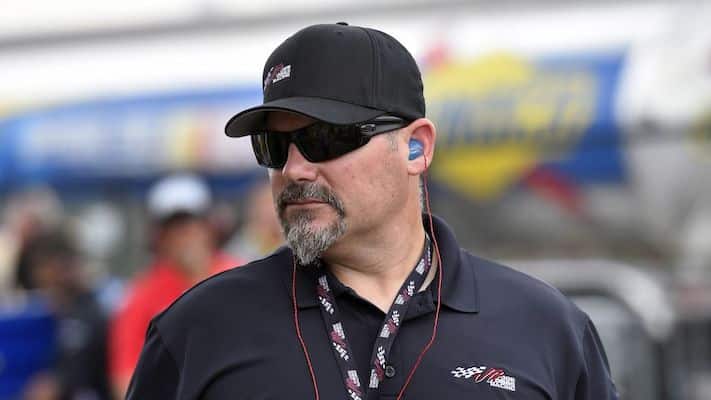 Coy Gibbs was an American NASCAR driver and co-owner of Joe Gibbs Racing. He was also working as an assistant coach with the Washington Redskins. Gibbs is the son of the NASCAR Hall of Fame, Joe Gibbs. Gibbs died at age 49 in his sleep on November 6, 2022. Coy Gibbs net worth at the time of his death is roughly around $5 million.
| | |
| --- | --- |
| Full Name | Coy Randall Gibbs |
| Birthday | December 9, 1972 |
| Birthplace | Fayetteville, Arkansas |
| Profession | NASCAR driver |
| Wife | Heather |
| Net Worth | $5 million |
| Died | November 6, 2022 |
Early Life
Coy Gibbs was born on December 9, 1972, in Fayetteville, Arkansas. He was born to Joe Gibbs, who was a 5-time NASCAR Cup Series championship-winning owner. Gibbs attended Stanford University and played as a linebacker for the University team from 1991 to 1994.
Gibbs also led his University team in tackles during a senior season. He became an Offensive Quality Control assistant for the Redskins in 2004. Coy joined the team after his father was re-hired as a coach of the Redskins. He worked for the Redskins until 2007. It was in 2000 when he made his first NASCAR appearance in the Craftsman Truck Series. In his debut, he shared the driving duties of the Number 18 Chevrolet along with his brother, J. D.
Coy Gibbs Net Worth & Career
Coy started racing a full-time schedule in 2001. For the two years in 2001 and 2002, he posted two top-five finishes and also finished 10th in points. Afterward, he replaced former stock racing car driver, Mike McLaughlin in the Busch Series. At the same time, he also nailed down two top-10 finishes and was named runner-up to David Stremme in the Rookie of the Year race. Then, he retired from racing at the end of the season.
Gibbs came to the notice in 2002 after his #18 truck made a contact with Harvick's #6 truck. After that, Harvick intentionally wrecked Gibbs after a restart. Due to that, the #6 truck that Harvick was driving was parked for the remainder of the race. Though Harvick denied that he wrecked Gibbs intentionally. However, radio communications proved his action intentional.
Harvick and Gibbs' incident resulted in Harvick's suspension for the Cup Series race at Martinsville a day later. He was already on probation after he had a physical fight with Greg Biffle during the Busch Series race two weeks earlier. Following the incident with Gibbs, NASCAR determined that he had violated his probation.
Gibbs made an announcement of forming the Joe Gibbs Racing Motocross (JGRMX) in August 2007 after competing in the AMA motocross and supercross championships. Later, he headed up the operation with the help of motocross industry veteran, David Evans. JGRMX's race shop was located 1 mile away from the NASCAR Cup Series teams which were situated in Huntersville, North Carolina.
Personal Life
Coy Gibbs is married to his wife, Heather. He shares four kids with his wife; three sons; Ty, Jett, and Case, and a daughter, Elle. His son, Ty Gibbs is also a NASCAR driver who won the Xfinity Series Championship on November 5, 2022. Coy unexpectedly died at age 49 on Saturday night in his sleep. His death news came less than a day after his son, Ty won the Xfinity Series championship.
Joe Gibbs Racing confirms Gibbs' demise in a statement. Coy was present at his son Ty's winning moment at Phoenix Raceway and had spoken about his son. His son, Ty was scheduled to drive on 23XI Racing's Number 23 Toyota on Sunday in the NASCAR Cup Series championship.
However, after Gibbs' death, the crew members took out his seat and put in inserts for driver Daniel Hemric who was in the Phoenix area after Saturday's race. Hemric would be competing in Ty's place on Sunday as announced by 23XI Racing.
Coy Gibbs Net Worth
Coy Gibbs' net worth is estimated to be around $5 million as of 2022. Gibbs was elevated to the Chief Operation Officer role at JGR after his brother, J. D. Gibbs suffered from brain function problems in 2015. Before that, Coy had spent years running the JGRMX motorcycle racing team. In the early 2000s, he made 97 starts across NASCAR's Xfinity Series and Truck Series.