Cole Beasley Net Worth: How Rich is the NFL Player Actually?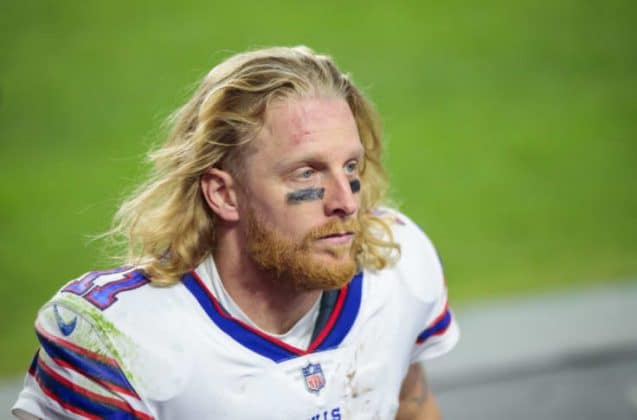 Cole Beasley is an American football player. He is best known for playing as a wide receiver in the National Football League. Beasley is mostly known for his time with the American football team, Buffalo Bills. As of 2022, Cole Beasley net worth is estimated to be roughly $15 million.
Cole Beasley was recently seen challenging the new COVID-19 training camp protocols of the National Football League, as he clearly denied getting vaccinated through a tweet on January 19, 2021.
| | |
| --- | --- |
| Full Name | Cole Dickson Beasley |
| Birth Date | April 26, 1989 |
| Birth Place | Dallas, Texas, U. S. |
| Profession | Football wide receiver |
| Wife | Krystin Beasley |
| Net Worth | $15 million |
Early life & College Career
Cole Beasley was born on 26th April 1989 in Dallas, Texas, United States. He has not specified any details regarding his parents yet. For his study, he joined Little Elm High School. There, he stayed in the high school football team as an option quarterback. For consecutive years, he led his team to the Texas UIL-4A playoffs. In fact, he was honored as an all-district co-MVP. Rivals.com also rated him as a two-star recruit.
Cole was offered a scholarship from Southern Methodist University, which he accepted, and started playing for the University's football team as a wide receiver. As a freshman, he showed up in 7 games, where he finished 3rd on the team making 42 receptions. Cole later started 7 games as a sophomore with 40 receptions, 493 yards, and 3 touchdowns. He posted 87 receptions as a junior, and 86 receptions as a senior.
Cole Beasley Net Worth & Professional Career
View this post on Instagram
Cole was undrafted in the 2012 NFL Draft and was eventually signed by the Dallas Cowboys. However, soon he joined, he made his mind to get retire from professional football stating that he had some personal issues. Though, later he changed his mind and made up to the final 53-man roster. He showed in total 10 games as a rookie making 15 receptions, and 128 yards.
In the 2013 season, he found a way to be in the best form as he was surrounded by the solid corps of wide receivers. Though, he had the highest completion percentage record among any receivers in the NLF. During the season, he made 39 receptions with 368 receiving yards and two touchdowns. During the 2015 season, he was signed by the Dallas Cowboys for an additional 4 years. He finished the season making 52 receptions with 537 receiving yards and 5 touchdowns.
Beasley entered into the new team during the 2019 season. He was signed by the Buffalo Bills on March 13, 2019. With the Bills, he caught his first touchdown reception against the Miami Dolphins. He also played against his former team, the Cowboys, where he finished the game with 110 receiving yards, and 1 touchdown. He was taken as an active/non-football injury player on July 29, 2020, and placed as an active roster on August 12, 2020.
Cole had a good game for the Bills in the 2020 season. He made 6 receptions against Los Angeles Rams, 11 receptions against the New York Jets, and 11 receptions against the Arizona Cardinals, He caught 7 passes for 57 yards while playing against the Indianapolis Colts in Buffalo Bill's Wild Card Round. Cole's 7 catches were his career-high for a playoff game. He made another record of 7 catches against the Kansas City Chiefs while playing in the AFC Championship Game.
Cole Beasley Personal Life
Cole Beasley is married to a lady named, Krystin Beasley. He has three kids with her; two sons, and a daughter. Cole seems to be living a happy moment in his life. On October 28, 2020, he shared a beautiful picture of his family on Instagram. Most recently, on January 17, 2021, he posted a picture with his two sons, with the caption Squad.
Cole has been recently criticized for his tweet, where he stated that he will not get the COVID-19 vaccine. In his tweet he wrote, "I'm not vaccinated. I'll be out in the public. If you scared of me then steer clear, or get vaccinated". In the end, he goes strongly against the vaccine by writing "I may die of COVID, but I'd rather die actually living".
Cole Beasley Net Worth
As of 2022, Cole Beasley's personal wealth is estimated to be around $15 million. He received a whopping contract amount of $13.6 million from the Dallas Cowboys on March 3, 2015. Likewise, he received a contract value of $29 million from the Buffalo Bills on March 13, 2019.
Cole Beasley News
Out with the old and in with the new, Cole Beasley mural in North Park is no more  WGRZ.com

WR Beasley released from Giants practice squad  ESPN

Giants designate Cole Beasley to return from practice squad IR  NBC Sports