Caeleb Dressel Net Worth: How Rich is the Swimmer Actually?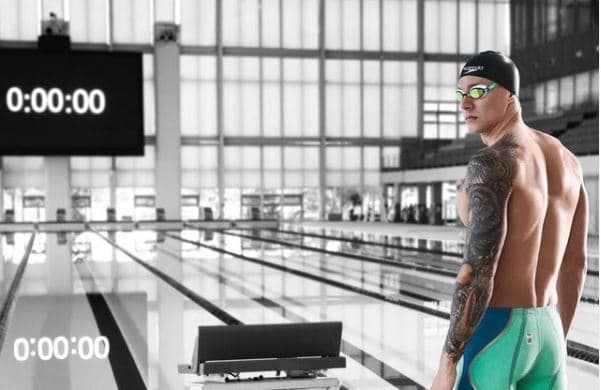 Caeleb Dressel is a 26 years old American freestyle and butterfly swimmer. He is a two-time Olympic gold medalist. Dressel specializes in the spring's events and has won 7 gold medals at the 2017 Wold Aquatics Championships. As of 2022, Caeleb Dessel net worth is estimated to be around $4 million.
Dressel is currently leading Team USA in the Tokyo Olympics, where he will look to become the fourth swimmer in history to win 7 medals in a single Olympics.
| | |
| --- | --- |
| Full Name | Caeleb Dressel |
| Birth Date | August 16, 1996 |
| Birth Place | Green Cove Springs, Florida |
| Profession | Swimmer |
| Wife | Meghan Haila Dressel |
| Net Worth | $4 million |
Early life
Caeleb Dressel was born on the 16th of August, 1996 in Green Cove Springs, Florida, United States. He was born to parents, Michael and Christina Dressel. Caeleb has three siblings named Tyler, Kaitlyn, and Sherridon. All of his siblings are actively competing as competitive swimmers.
Regarding his education detail, he has studied at Clay High School. Caeleb got swimming training with the Bolles School Sharks. He has been participating in swimming competitions from his early days. Dressel was actively taking part in swimming while studying at the University of Florida. He came out holding a graduation degree from the University in 2018.
Caeleb Dressel Net Worth & Career
View this post on Instagram
At 15 years of young age, Dressel participated in the 2012 United States Olympic Trials. He was the youngest male swimmer at the Trials, where he finished 145th in the 50-meter freestyle. In the trials, he finished off a 200-yard free relay in 19.82 seconds, which made him the first swimmer under 16 to break 20 seconds record.
In 2013, he participated in the 2013 FINA World Junior Swimming Championships. There, he won 6 medals which include a gold medal in the 100-meter freestyle. That year, he also competed at Speedo Winter Junior National Championships, where he became the youngest swimmer to break the 19-second barrier in the 50-yard freestyle.
Caeleb has won the 2015 NCAA title in the 50-yard freestyle during his freshman year at the University of Florida. In 2016, he set the new time record time of 18.20 in the 50-yard freestyle while competing at Men's NCAA Division I Championships. Likewise, he set the new record of 40.46 in the 100-yard freestyle.
Dressel won his first-ever gold medal at the 2016 Summer Olympics in a 4×100 meter freestyle relay. He earned his second gold medal in the same event in the 4×100 meter medley relay, where he helped the USA to finish first in the final. In 2017 while competing at World Aquatics Championships in Budapest, he won 7 gold medals and broke many American records.
Caeleb earned his first relay national title at the 2018 NCAA Division I Men's Swimming and Diving Championships. He broke the previous American records in 50-yard freestyle thrice on March 22, 2018. He earned a gold at the 2019 World Aquatics Championships in Men's 4×100 m freestyle relay. Dressel qualified for the US Olympic Swimming Team in 2020 after he won 100-meter freestyle with a time of 47.39.
Dressel has qualified for the 2021 Olympics which is taking place in Tokyo. He will be competing in Tokyo for medals in seven different events. The Tokyo Olympics is scheduled to begin on July 23 and it will end on August 8. The swimming is scheduled to start on July 24, which will most probably take place at 6 am and 9:30 pm EDT.
Caeleb Dressel Personal Life
Caeleb Dressel is married to fellow simmer, Meghan Haila who has trained with him while studying in high school. He was dating her since 2013. The couple became engaged in 2019. They were about to tie the knot in 2020, however, due to Dressel's busy schedule during the COVID-19 pandemic, their wedding got postponed. They officially got married in February 2021.
Caeleb Dressel Net Worth
As of 2022, Caeleb Dressel's personal wealth is estimated to be around $4 million. He has earned a huge sum through participating in various swimming events. During the International Swimming League 2020 season, he earned a total earning of $300,000 including racing and bonus payout.
Caeleb Dressel News
An error has occurred, which probably means the feed is down. Try again later.