Blippi Net Worth: How Rich is YouTuber Stevin John Actually?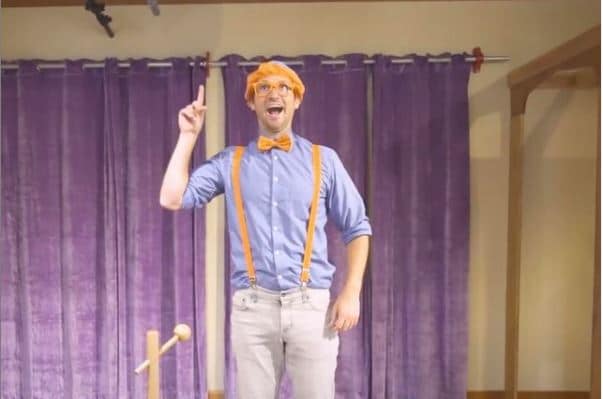 Stevin John is an American children's entertainer on Youtube and Amazon Video. He is best known for being the character called Blippi which helps children to explore and learn entertainingly. He has amassed more than 15.1 million subscribers on Youtube and is watched by millions of kids. As of 2022, Blippi net worth is estimated to be around $40 million.
| | |
| --- | --- |
| Full Name | Stevin John |
| Birth Date | May 27, 1988 |
| Birth Place | Ellensburg, Washington |
| Profession | Children's Entertainer |
| Relationship Status | In a Relationship |
| Net Worth | $40 million |
Early Life
John grew up in Washington and as a kid, he wanted to be a fighter pilot. After completing high school, he would join the military with this dream. He became part of the United States Air Force as a loadmaster but later realized that this profession was not for him at all.
Blippi Net Worth and Career
After completing his duty, John focused on being a director and started shooting television commercials. Yet, it would be his nephew who would inspire his new creation. He had seen that his sister's two-year-old song didn't have any quality videos to watch on Youtube. This is when John came up with the idea of creating a childlike energetic character who was very curious to learn and would explore different things to learn.
The character Blippi was born with the output of a blue and orange beanie cap with a shirt and suspenders. The character was meant to explore the world together with kids and feed their curiosity to know new things.
His videos include him exploring new places, dancing, and playing. He made videos especially targeting the 2 to 7-year-old kids and it soon started racking up hundreds of thousands of views.
He came up with the character himself and in the early days would do all the filming and editing himself. However, as his channel grew bigger and bigger, John hired an entire team to keep up with the demands for new exciting content from kids all around the world.
There is also a tour called Blippi the Musical which goes to different towns in the U.S. in a live show for kids with their parents. However, this tour had caught criticism from parents in 2019 as John himself did not show up but rather a stage performer was used. Though his team stated that this was clearly communicated, parents were not happy and they would give a refund. The tour is currently running all over the U.S.
Personal Life
John currently lives in Las Vegas with his girlfriend and their dog. On August 5, 2021, he engaged to his longtime girlfriend Alyssa Ingham.
Blippi Net Worth
As of 2022, Blippi's net worth is estimated to be around $40 million. John's videos on Youtube along have been watched more than 9.7 billion times which is a monumental achievement. Though ad revenue is also part of his earnings, he has derived a big part of his earnings through the retail merchandise that he sells which includes toys, shoes, t-shirts, blankets, and socks all in the design that the character Blippi is known for.
Blippi News
Moonbug's 'Blippi' and 'Little Angel' to Get Toy Lines Developed by 'PAW Patrol' Producer Spin Master (EXCLUSIVE)  Variety

Blippi: The Wonderful World Tour brings laughter and learning to El Paso  KFOX El Paso

'Blippi' episode set in St. Louis airs on Nov. 4  KSDK.com